Quite by accident, we developed a peer to peer platform that does not request a user login. Everyday, we hear from peer to peer fundraising event organizers and others lamenting the difficulties and barriers posed by the user login. For most, this step for your guests is not necessary. How can you decide?
Are USER IDs necessary for your event? Are they impacting your event negatively?
Here are some steps to assess your fundraising needs.
Are User IDs negatively impacting your event?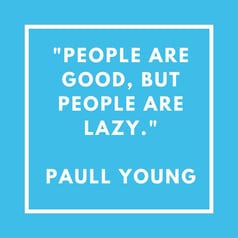 - Do you receive feedback from guests that they have trouble logging in, remembering passwords and, in general, accessing their accounts?
- What is the exit rate (i.e. how many people leave the setup page when they hit the user setup process)? Do your donors, guests and fundraisers think twice before participating -- who might you be missing?
- How much time do you spend assisting guests with their account access (especially if it is the 2nd year of your event)?
Do you want your donors / guests to need to log in to participate? No.
What is the difference? Without a user login, participants receive a pre-designed fundraising page with limited customization options and less access to private information about their donors. However, they never struggle with using the software to fundraise and it is always easy to access their fundraising page for sharing, selling tickets and building awareness. Setting up the fundraising page is instant. They will not spend time customizing or verifying their user account and can move straight into fundraising.
This article by Paull Young reflecting on his time as the Director of Digital Marketing at Charity Water sums it all up beautifully. He notes that "people are good, but people are lazy" and, most importantly, that each fundraising campaign brought in 13 new donors. Their acute focus on donor acquisition and the impact of peer to peer is worth considering for your organization. Read his article "My 5 Biggest Lessons from 5 years leading digital at charity: water".
It's important to remove as many barriers for your guests as possible and the easiest step to remove is the User login.
Hosting a walk fundraising event? Check out these 5 Ideas to Boost Revenue at Your Walk Fundraising Event
Glossary:
What is a User ID / User Login? This is the user name and password that your event guests, walk registrants, and/or online fundraisers create in order to purchase a ticket, register or generate a fundraising page. Many software companies may even ask a donor to create a user name and password simply to contribute to your event.
Why? User IDs offer the fundraiser or registrant a mechanism through which their pages and access to the site can be customized, information can be stored for retrieval and a portal created for each of your registrants. There are options for the user but in many cases event guests and users do no use or need customization. Second, many software companies are focused on growing their user base (aka your guests) and are measured by that growth. Your users are their users.