Fundraising luncheons serve as the backbone of the nonprofit event 'model'. Why? Luncheons are less expensive to produce than an evening gala and ideal for focusing on the mission rather than just a party. For many, the luncheon schedule is more convenient because it is during the work and school day. This means that it can be a nice perk for corporate guests. For some, it is easier to drive during the day than night. Lastly, hybrid luncheon events often draw a sizable online/virtual audience who may be at work or online already. Quite simply, luncheons can be excellent fundraisers.
These fundraising luncheons are built on the ability to easily seat guests at tables. Coordinating tabled events is hard and requires tremendous time (seating charts, gathering guest names, changing names). Due to Swell's table management feature, we have seen excellent ideas to help manage and augment the traditional table fundraiser.
Fresh Ideas for your Fundraising Luncheon
Here's a list of the top 5 favorite tabled event ideas we've seen!
Offer different table sizes for your luncheon fundraiser
For most fundraising luncheons or evening galas, nonprofits offer tables of 8 or 10 guests. It's much more creative to offer variable sizes. For example, if your tables seat 10 people you can offer a table of 8 and then seat 2 guests at the table from your program or staff. This ensures that at least someone at every table can speak to the mission directly and provide a more personal experience about your mission. It's also a great chance to meet new people.
Upgrade the table centerpieces at your fundraising event
The table centerpiece is one of the most visible parts of the room. Use it to both excite guests and to keep spreading the message of the organization. You can download our 10 DIY, Mission Centric Table Centerpiece ideas below.
Examples we love include the following: (1) Use a purse as the centerpiece for a women-centered event (Power of the Purse) and then give it as a prize at the end. You can take this concept a step further by providing guests with a 'peek' into the life of your program recipients through the purse. (2) Create centerpieces that can be re-planted in a community garden, (3) For a literacy event, nonprofits can stack books which become great talking points for guests.
Everyone has seen the standard flower centerpiece at a fundraising event. You can be different. Here's an easy-to-implement idea from the Robin Hood Benefit 2018 in New York City, where they used lettered light boxes as a centerpiece but also to thank guests for attending.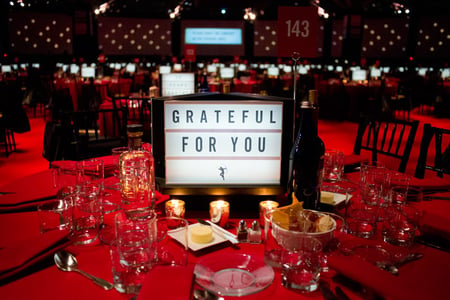 (Photo from BizBash Online - see more pictures of this event here!)
What is the intangible reason that guests attend your fundraising event? Deliver it.
The most successful fundraising luncheons provide guests with an intangible experience that they cannot replicate on their own. These intangible items include supporting a friend, meeting new friends, cultivating a business relationship, networking in the community, listening to a speaker, enjoying unique entertainment and, perhaps, just an excuse to take a long lunch. Thinking about why people are attending can help you know how to organize your event.

Be creative with linens at a tabled fundraising event
This may seem small (and maybe it is) but do not overlook the impact that the quality and design of your linens can have on your event. Extend the budget a bit and be creative. For example, the YWCA fundraising luncheon uses a different linen color on each row of the ballroom. The colors support the brand of the event. It also makes it easy to seat guests.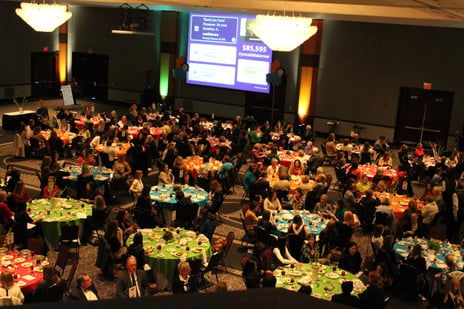 Use music to set the mood.
As your guests enter the dinner or fundraising luncheon space, use music to set the tone. Music has a powerful impact on the energy and vibe of your event. It's also easy to adjust from year to year.

Do not seat your staff at a table in the back of the room
For many fundraising events, the nonprofit staff end up seated at a table in the far back corner of the ballroom. This is a mistake. It creates an awkward moment when the CEO thanks the team and they are waving from the back. More importantly, it's a lost opportunity for them to be scattered among the guests building relationships with donors and telling the story of your mission. Your staff are a core part of your organization and are too important to be sitting in the back.


Bonus Tip! Seat yourself, the developmental director, strategically. Sit with a strategic donor during the event. Do not be running around the event working. Outsource all of the "during event" work to your staff or a vendor.
We hope these tips help to give you some ideas about ways to change up your tabled event. Happy Fundraising!