Thousands of luncheon and dinner fundraisers are contingent upon seating guests at tables. Coordinating tabled events is hard and requires tremendous time (seating charts, gathering guest names, changing names). Over the years, we have seen excellent ideas to help manage and augment the traditional table fundraiser.
Here's a list of the top 5 favorite tabled event practices we've seen!
Sell Tables of 9 rather than 10!

Sell tables of 9 and have an extra seat left at every table be reserved for one of your program recipients, a staff member of board member who can organically engage with your guests about your cause. This ensures that at least one person at every table can speak to the mission directly and provide a more personal experience that will hopefully keep them coming back!
Interactively Use Your Centerpieces!
The table centerpiece is one of the most visible parts of the room. Use it to both excite guests and to keep spreading the message of the organization. You can download our 10 DIY, Mission Centric Table Centerpiece ideas below. We love the power of the purse concept for women-centered events where a high-end purse is used as the centerpiece and then given as a prize at the end of the event to one person at each table. Or take it a step further and put something inside the purse that provides the guest with a 'peak' into the life of your program recipients. Doing something like this keeps your guests much more engaged than the basic flower centerpiece. Here's a second and easy-to-implement idea from the Robin Hood Benefit 2018 in New York City, where they used lettered light boxes as a centerpiece but also to thank all of their guests for attending.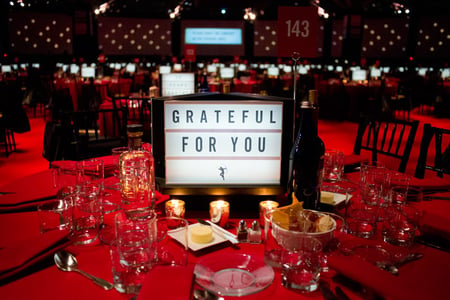 (Photo from BizBash Online - see more pictures of this event here!)
Think about WHY your audience is attending your event.
Are they attending because they genuinely care about the organization and what you are trying to accomplish? Alternatively, are they attending to make business contacts or to be social? Thinking about why people are attending can help you know how to table your event.

Do not skimp on linens.
This may seems small (and maybe it is) but do not overlook the impact that the quality and design of your linens can have on your event. Extend the budget a bit and be creative with your linens. For example, YWCA has every row of tables a different color because it goes along with their brand and message. It also makes it easy to seat guests. For a holiday (Christmas, Halloween, Thanksgiving) gathering, ask your tables leaders to bring a favorite holiday runner which can creatively upgrade a plain white table into a conversation.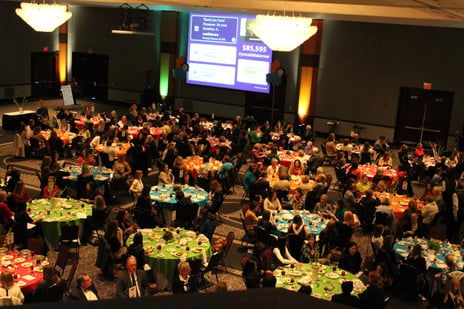 Use music to set the mood.
As your guests enter the dinner or luncheon space, what are they hearing? Music has a powerful impact on the energy and vibe of your event. It's also easy to adjust from year to year.

Do NOT keep your staff stuck at a table in the back of the room
Move them around and place them around the room at different tables where they can tell your story. Your staff are a core part of your organization and are too important to be sitting in the back.


Bonus Tip! Seat yourself, the developmental director, strategically. Sit with a strategic donor during the event. Do not be running around the event working. Outsource all of the "during event" work to your staff or a vendor.
We hope these tips help to give you some ideas about ways to change up your tabled event. Happy Fundraising!