With hundreds of virtual events behind us, the following tips are derived from data-driven results such as attendance relative to registrations, attendance related to time of day, guest login/logout pace, time spent at the event and peak logout times. All of these indicators drive a nonprofit's ultimate success with a virtual fundraising event.
Here are our current recommendations based on event data since Swell's first 100% virtual event on April 23, 2020.
Event registration.
The event registration process is the most important driver of a successful virtual nonprofit event. Attendance at a virtual event is a factor of the pre-registrations. While there were a few outliers, attendance ranged from 50%-65% of registrations.
Furthermore, events that followed a table captain/team invitation process enjoyed the highest attendance and engagement as a percentage of pre-registrations.
Virtual events that did not connect a healthy registration process were the least successful universally.
Learn More About How Swell Registration Impacts Fundraising
Live streaming.
Invest in a professional company. First, the live production IS the event and serves as a reflection of you, your sponsors and all who support you.
After a well-produced virtual event, a nonprofit CEO received a message from a smaller sponsor bemoaning the fact that they weren't the signature sponsor this year.
It's an investment in the future.
Second, the footage can be reused in many locations - on your social channels, blog and even an encore event.Virtual guests remained on professional streams three times longer than guests on a DIY event.
Third, the time you and your team will spend practicing and figuring out how to produce a live streamed event can is better spent communicating with donors and guests.
What should your program be? Run-of-Show.
Characteristics of the most successful virtual fundraising events include the following:
All presentations/speeches by one person (i.e. the welcome speech from the board chair) should be less than 3 mins.
Interviews need to be shot from multiple angles or change the speaker view to add dimension.
Honoree recognition should be dynamic - bounce questions back and forth between honorees, conduct recognition throughout the event rather than in one, long presentation. Make it fun. Use the state roll call for the DNC convention as inspiration. (*When a group of honorees are presented one after the other, attendance drops quickly unless there is another aspect of the program to maintain attention. )
A live emcee who can engage with the real-time chat and welcome guests as they enter ensures that guests feel "seen", give and stay.
Consider featuring a celebrity figure or special guest from afar. Use this time to add an element to the event that was not possible or affordable with the in-person event.

Music increased engagement and lengthened the average time on the virtual site.
Time of Day.
While we have witnessed successful events at all times of the day, the data suggests that lunch events perform best (higher percentage of pre-registered guests, higher engagement with chat/giving), evening events performed slightly better than breakfast fundraisers. The lowest attendance and engagement occurred for Saturday evening events.
Test the Experience Completely.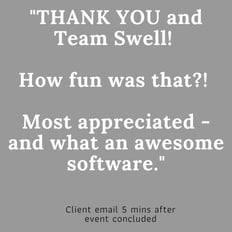 Prior to signing up with a software company, we strongly recommend attending an event using that software as a guest (if possible).
Once your event is launched, go through the registration, communication and virtual event entry/experience. With virtual, your board and constituents will look to you. If the nonprofit team shows confidence in the process and experience, your guests will respond accordingly. Your leadership with a new experience matters.
PS… Event Registrations. It's absolutely the key to success.