Do you feel pressure to add a peer-to-peer campaign to your already full development calendar?
The following sentence is from a session at a nonprofit conference,
"many organizations are thriving within our new reality by rethinking how they approach fundraising and adopting a new playbook: community-driven fundraising"
The notion that nonprofits need to 'rethink' and 'adopt a new playbook' is hard because your calendar is FULL. Rest easy -- you can easily incorporate peer-to-peer into an existing event or campaign with extraordinary results. Take a look at your event.
First, consultants and software companies are right to push peer-to-peer. The results of a successful peer-to-peer campaign are extremely healthy for a growing organization. Like us, they've witnessed the game changing opportunity of a well run peer-to-peer event.
What might you accomplish with hundreds of new donors in your pipeline?
HOWEVER, you are already hosting peer-to-peer campaigns via your events. From golf tournaments to luncheons, every concept has the potential to become your annual peer-to-peer campaign.
Here are the 5 Ways that your Event is ALREADY a Peer-to-Peer campaign (hint: you just need the right software!).
(1) Peer-to-Peer Campaigns are essentially Friends-Asking-Friends to support a cause. Why do most people attend an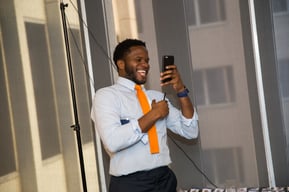 event...... Because a friend asked.
(2) Pre-planning required. To run a successful peer campaign or event requires significant planning, cultivation of event hosts or committees and ensuring that the "right" people are involved. (How many development directors have specifically made sure that certain people attend an event so that the giving bandwidth aligns with the auction?)
(3) FOMO - Fear of Missing Out is a powerful factor in both online peer-to-peer and events. No one wants to be left out and everyone wants to be publicly thanked for joining an event or online effort. Event based peer campaigns further enhance this need.
(4) Convenience matters - With events and peer campaigns, the convenience of the fundraiser matters. If it's hard to register for the event or a line forms at the door, your event will struggle. Similarly, if setting up a fundraising page or engaging with your organization is difficult, the fundraisers will leave...quickly. Don't let user login information deter your future donors!
(5) Party Activators - Events and peer-to-peer campaigns both require activators. You know who they are -- the people who liven up every atmosphere with their positivity, inclusiveness and fun. (**Not enough people focus on the importance of campaign activators to spur online fundraising but it's just like the dance floor at a party - once one or two begin to dance the rest of the party joins.)
Nonprofit fundraising events are peer-to-peer events. There is no need to create a separate campaign but simply to augment what exists. Luncheon events that bring in an additional 25% in online donations from friends who don't attend, cocktail parties with hundreds of online donors, honoree events that raise $75-100K before the event event begins -- the power of peer to peer applied to your current events is fun, efficient and already aligns with the event culture.
Check out the YWCA Case Study - Turning a Luncheon into a Peer-to-Peer Campaign