The Fall 2020 fundraising event season is on the minds for many nonprofits. As an industry, we face compounding issues including:
(a) events rescheduled from Spring 2020 until Fall,
(b) the expected reality that large groups will not be able to gather in the Fall or
(c) guests, regardless of government orders, will be uncomfortable in large gatherings and choose to stay home.
The worst part? No one really knows and it's impossible to make concrete plans.
Let the lessons from spring inform fall planning… Be Prepared and Have Options.
First and foremost, your event options will likely stem from technology. If you are not using a strong event software provider, jump in now. You can do it. It's important to have technological infrastructure in place to be able to adapt.
Here is one example when a backup option saved time and raised funds.
The YWCA of Central Alabama hosts a 1200-person seated luncheon that annually raises between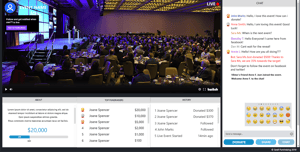 $600K-$700K. In just a few hours, on April 1st they were able to pivot the entire event to 100% virtual. Instead of Swell's in-event apps, they used the company's Virtual Event Module and hosted 1548 people online for their live streamed program as planned. The case study is linked here.
Being prepared mattered.
What options do you need?
IF you want to be prepared for one of the following scenarios:
Quickly change to an online fundraising campaign: The ability to quickly pivot to an online fundraising campaign and forego any gathering. To do this, your event needs integrated peer to peer technology or you need a platform that you can instantly launch. Peer/Online fundraising is enhanced by fundraising totals and goals. We are biased but this transition is significantly easier if all of your registered guests can be instantly converted to fundraisers.

Go 100% virtual and livestream your fundraising: Successful events, whether online or physical, need guests and easy giving options. Seek a technology solution that helps you do the following:
Pre-event Registration: Obtaining the names of virtual guests/table hosts is a key step to ensuring strong attendance
Email Communication: Pre-event communication to inform guests about the virtual event, update them on your cause and other important guest information
Live stream integration: If you live stream, it should be integrated with your event website. Making a guest go to another software provider to donate is like making them leave the room.
Is it easy for a guest to donate? (i.e. do they have to create a login to donate, do they have to click more than once, will they get lost),
At-the-Door Checkin process: An event is about fundraising but also donor acquisition and you need the contact information for everyone who attends.
Post Event
Data: Attendance, Transaction reporting, Geographic reach (this is especially helpful for reporting back to event sponsors
Capture guests who missed the event: Create a way for donors to watch a replay of the event and continue to give
Host the event but with small groups at multiple locations
Adaptable registration process for multiple venues
Easy giving tools such as Text to Donate that a host can easily share with guests
Connect venues through technology: Use fundraising displays so that the giving activity, social media and event information is shared across all locations.
Sponsor integration throughout ensures increased exposure for event sponsors supported by data.
Livestream integration to connect one central location with others
The bottom line is that you can make faster adjustments and continue fundraising if your technology platform provides you with several options that can be instantly turned on to facilitate new plans.
Examples of tools that can be combined to support a variety of event types include pre-event registration, text to donate, peer to peer fundraising, fundraising tallies, integrated live stream options, virtual guest engagement tools, live fundraising display and check-in app. These are options that a nonprofit can leverage to create an engaging event where giving is easy.
The right decisions today will help ensure that your event continues to deliver important funding, attract new donors and raise awareness for your organization.
Create a Virtual Fundraiser: Where to Begin