Since the dawn of the ice bucket challenge, nonprofit boards have asked staff to launch successful online fundraising campaigns - preferably ones that will go 'viral'. At lunch last week with a fantastic nonprofit director, I saw the look of doubt and then the same line I've heard over and over, "Well, I tried an online campaign on (insert software choice) and nothing happened. We raised $55 and I donated the first $50."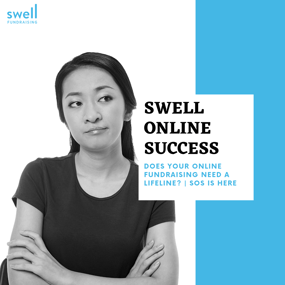 Successful online campaigns require skill, planning and proper execution. It goes far beyond creating a giving page. As a result, we are launching a 4-class series alongside our software… because software alone does not raise money. Swell Online Success (SOS) will provide the step-by-step process and tools necessary to succeed. We believe in the steps so much that we are guaranteeing success.
Here are the elements of a successful online campaign that we will explore.
First: Set a clear, easy-to-define project or goal. This may take the form of a matching gift, a project at your organization or funding a program. Donors for online campaigns will not think for a long time and thus the impact needs to be easily defined. One of my favorite online campaigns funded back to school uniforms for girls at $27.50, $48 increments. With excellent messaging, it is possible to distill your mission into a bite-sized funding. We will discuss messaging, measurement and how to set your fundraising goal.
Second. People-Power. Determine who is best to carry the fundraising appeal to your community. Support them, empower them, thank them and even honor them. We will help you recognize the "perfect" fundraising personality, provide example tools, discuss how to ask and coach a fundraiser and how to target new people.
Third. Fundraising Tools. Create fundraising tools and informational support for your fundraisers. As nonprofit staff, it is our job to help our fundraisers be informed, equipped and supported so that the only thing they are left to do is email, call or post. We help you remove the fundraising hurdles.
Fourth. Create a Fear of Missing Out. Online campaigns need to create enough dialogue online for it to take the form of an "event". Through messaging, tagging, good humor and encouraging others to 'talk online' you can essentially create an event that others want to join. There are several clear steps to highlight the online activity and fun in giving. We will present online tactics that create a fear of missing out.
Fifth. Crisis Fundraising. It's impossible to plan for crisis fundraising but it is essential that nonprofits are ready. When the news cycle shifts or tragedy strikes, nonprofits who are prepared to respond with swift, online campaigns can channel funding into effective, local needs.
The steps and offline actions are absolutely key to online success. The average online fundraising campaign generates $10,000 and measurable awareness for your cause. Through online nonprofits can reach new donors, smaller gifts and leverage passionate supporters who are well-networked. We look forward to helping nonprofits succeed online.
If you are interested in applying for our SOS program, click here.