The Little Black Dress Fundraiser is a creative fundraising effort initially launched by the Junior League of London and replicated across the United States with Junior Leagues and other nonprofit organizations.
Join us in June for live, webinar-style demonstrations showing you how to host a Little Black Dress Initiative on Swell.
What Is a Little Black Dress (LBD) Fundraiser?
An LBD fundraiser can come to life in a few ways. At their core, Little Black Dress events are peer-to-peer campaigns.
Online fundraising campaign only: For an online fundraising campaign, supporters or members of your organization agree to participate as Fundraisers (we prefer the term Champions) in your Little Black Dress Campaign.
Goals are set, kickoff calls held, fundraising toolkits created and materials provided in support of those Fundraisers (more on that to follow below).
For one week, LBD participants wear a black dress every day to prompt conversation and raise funds in a peer-to-peer campaign.
Participants typically wear a button, change their social media images and/or carry information to prompt conversations with friends about the cause
Text to Donate or a QR code to a mobile giving page can then be utilized to engage peers with giving
Fundraising campaign + Event: The Little Black Dress fundraiser and event is another engaging process to raise funds for your cause. Little Black Dress events celebrate the fundraising participants with a party.
Event guests wear a 'little black dress' to the fundraising event
Ticket sales and pre-event donations are credited to Fundraising Champions
The event is hip, focused on raising awareness about the mission, celebrates fundraising and honors the fundraising champions.
The LBD event needs a ticketing platform integrated with the peer fundraising and easy ways to give throughout the event in support of the fundraising champions.
Steps to your Successful Little Black Dress Campaign
Determine your goals for the campaign/event. Goals include fundraising goals, number of donors, social media mentions and website traffic. The goals of the campaign are both fundraising and awareness.
With your campaign/event committee, finalize the dates and details of your campaign or event.

Date, Time and Place
Fundraising goal
What needs will be met by the fundraising?
Graphics / look of the campaign/event
Create your Little Black Dress Event or Campaign site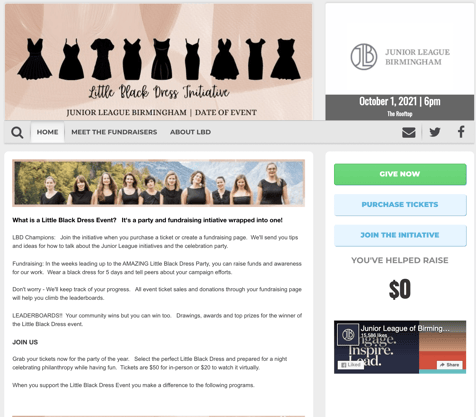 Recruit your LBD fundraisers

Be intentional about WHO is recruited to ensure diversity of networks and awareness
Make it fun
Create a Fundraising Toolkit for Your LBD Participants

Information about the cause and why the funding is important

Example emails for participants to send to friends and family

Example social media posts

Social media images for participants to change their profile image, headers and more

Fundraising best practices
Launch: A well-planned launch can make or break a fundraising campaign. Here are some steps to a successful launch.

Choose a set date for everything to begin. Ask your fundraisers and all of your committee to post on social and email friends that morning.

Host a kickoff call the week before your launch date. This is a great time to show your fundraisers best practices and hand out materials.
Have FUN - Communicate Well!

The communication with your fundraisers, members, community and previous year participants is key to your success.

Have fun celebrating individual successes and encourage friendly competition when it makes sense.
Little Black Dress is a mainstay of the fundraising concepts and can serve as a great online only, hybrid or in-person experience. This means it is resilient during unpredictable times.
Explore Swell:
Swell Fundraising has hosted hundreds of campaigns like the Little Black Dress event. With Swell, you can use our custom domain (littleblackdress.gives) to host your event and create a custom experience for your participants with our email customization tools. Swell's integrated ticketing alongside a peer to peer platform is perfectly designed for LBD events and campaigns.