It is finally the day of your event.

However, it is not time to put down the planning checklists just yet. Today is an extremely hectic day, and we want to give you a few tips on how to tackle it with ease.

The day of an event is daunting and you need to be able to quickly handoff tasks and responsibility to staff, volunteers and vendors. This checklist will help you delegate and not forget the details -like lunch and coffee! There are many things on our event checklist, but we want to highlight five things that we believe are some of the most important things to do today.
Top 5 Things to Remember to do from your Day of Event Checklist

1. Organize all of your event contacts
2. Check that all supplies have arrived or are on the way
3. EAT LUNCH!!
4. Event Run-Through
5. Have your volunteers arrive at least one hour before the event start time

Organize All of Your Event Contacts
This is extremely important. Make sure to have all contact information (Name, Phone Number, Email, etc.) for every vendor/person that has anything to do with the event running smoothly. Make copies of this list and make sure everyone on your executive team has one. Here is a template on how to organize your event contacts.


Check (and double check) that all supplies have arrived or are on the way
This is a step that relies heavily on you having all of your contacts organized. You can never be too sure that everything has been delivered or will be delivered. We recommend when you physically see the item in the venue check it off that you have it. Never before that.

Eat Lunch!
This might seem silly but is so important! Feed yourself and your volunteers! You cannot perform to the best of your ability if you are hungry and neither can your volunteers! Make sure you eat!

Event Run-Through
This is so important! Even if you did it yesterday and everything was fine, anything can happen so do it again. Make sure there are no last-minute kinks that need to be worked out like slow WiFi or Sound/Technical Difficulties. Make sure you have all of your logistical things in order such as name tags for everyone, or if you are serving food or alcohol make sure you know about allergies or have the appropriate permits to do that. This run-through is your last chance to make sure everything is perfect!

Have your volunteers arrive at least one hour before the event start time
This might seem like a no-brainer, but it is a detail that could easily slip your mind if you are worried about other things! Make sure they know ahead of time to get there early and be ready to go at "Go Time." Consider designating a volunteer coordinator to meet and train them upon arrival.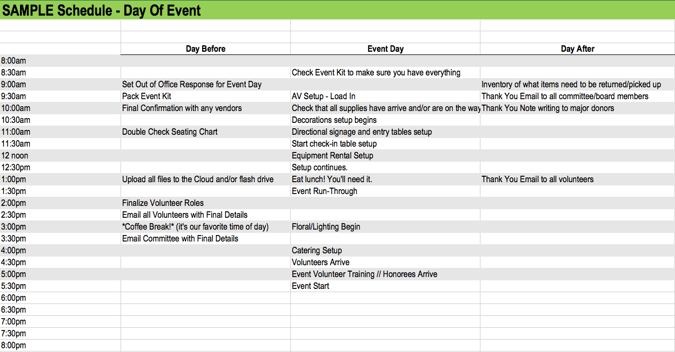 You now have all the tools you need at your fingertips to have an amazing event. Take a deep breath and enjoy it!
Check out Getting your Checklist Tackled Early for tips on planning your next event! It is never too early to plan!
To Dive Deeper into Event Fundraising and getting ready for it sign up for Swell's Email Series!