We are all software users and, perhaps, you've noticed that a big part of working with software is understanding 'how it thinks.' Swell's software is no different. Each feature and function was designed based on first-hand experience and client feedback.
There are many peer-to-peer solutions on the market and most operate similarly. Swell is different.
Swell was born from the needs of a nonprofit and the software design reflects that experience. Most importantly, our clients and donors feel it too. Here are the major design differences in Swell's peer-to-peer features.
No User Login. From the outset, we wanted to make Swell's peer to peer sign up process the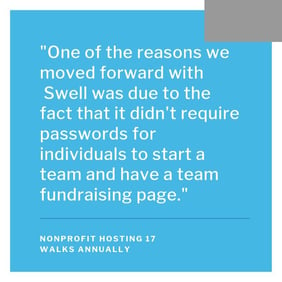 easiest possible. As a result, fundraising participants in Swell's platform do not have to create (or remember) a username or password. Our focus was to make it frictionless so that nonprofit participants become fundraisers and start sharing instantly. We knew our guests might opt-out before completing the process and we increased the completion rate by eliminating the login.
This means that Swell does not treat your fundraisers like our users. We do not communicate with your fundraisers about other events or encourage them to fundraise for other causes.
Repeat users (i.e. an annual event) do not have to remember a password from the previous year. Imagine the exit rate for your guests who have to go through a password reset every year just to register.
Becoming a fundraiser is easy.
Nonprofits control the messaging and imagery of the campaign. We opted for content control on the fundraising pages in order to preserve our corporate sponsor experience.
Imagine how helpful this quick process is for student-athlete campaigns, busy board members, and older participants.
Ticketing/Registration is completely integrated with Fundraising pages. Swell is the only platform that automatically creates a fundraising page for every ticketed guest. It's one-step, automatic and easy. Why? (1) We believe that every registrant has the ability to be a fundraiser. (2) It's more efficient to combine the process. (3) Nonprofit staff can communicate to every guest the same way because everyone has a fundraising page too. (4) All events have peer to peer potential.
Creating a Team is controlled. Many peer to peer fundraising platforms invite your fundraisers to create or join a team. We do this also but with a few differences. First, the nonprofit determines if fundraisers can create a team. In some cases, nonprofits enjoy allowing fundraisers to create teams and invite guests. However, there are many cases where the nonprofit needs to turn off that option for guests and only allow registrants to join an existing team. During the design process, we (again) wanted to ensure that only our sponsors were featured and wanted to control the team creation process.
OnSite Giving During the Event. Since peer to peer fundraising is so integral to our design, on-site giving during an event "through" a fundraiser is EASY. Many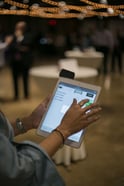 competitive fundraising events stop the peer to peer fundraising before the event starts and calculate the fundraising totals manually. For Swell, we can seamlessly go from pre-event to in-event fundraising. (1) Our on-site application lists all fundraisers and it is easy to simply donate through a fundraiser on the app. (2) Swell's mobile friendly text-to-donate process includes a search box for a donor to direct their gift to a fundraiser.
Discover how these design details have helped event themes like peer to peer walks, Dancing With The Stars concept, Walk a Mile in Her Shoes, Smart Party, luncheons and dinners.