Many nonprofits and fundraising organizations use tried and true methods of fundraising, and they know what works! However, have you been looking for a way to change up your event marketing strategy and engage more registrants? An event microsite will make a difference for your online presence, inspire more registrants, and funnel donors to your organization's main website.
A microsite is a single web page (or cluster of pages) that focuses on a narrow topic and is separate from your main website. In this instance, your microsite would focus on promoting your organization's fundraising event and driving online registrations.
In this guide, we're going to review the five top benefits of an event or campaign microsite.
Creating a microsite allows you to accomplish the following:
Increase brand awareness for your event.
Drive event registrations.
Boost pre-event donations.
Engage supporters in a unique way.
Track event-related data.
1. Increase brand awareness for your event.
Your fundraising event has unique branding that differs from your organization's overall brand. For example, your event might have a special logo, color scheme, or tagline. An event microsite is a great place to showcase your event branding to raise awareness among your target audience.
According to Getting Attention's guide to nonprofit logos, here are some ways to increase brand awareness through your microsite's design and logo usage:
Embed your mission in your design. Consider using simple imagery or a tagline in your logo to bring your nonprofit's mission to the forefront.
Echo design choices from your organization. Your microsite logo could include secondary colors or a similar font used in your organization's main logo.
Be bold. To heighten brand awareness, interested individuals need to see your logo. Use bold colors and text to make your message pop off the page.
Use your logo throughout the microsite, and consider placing it in a prominent place on the homepage. This is a great place to explain what the event is raising money for and to highlight your organization's main mission.
2. Drive event registrations.
According to Kanopi's guide to charity microsites, if your fundraising event microsite has different content than your nonprofit's main website, you'll be able to attract a new audience of supporters who find out about your organization through your microsite.
Your microsite can be easily shared on social channels and marketing materials to help direct people to your website. Containing all your event information on one microsite as opposed to having interested individuals search through your organization's website can help streamline their registration process.
Let's say you're creating a microsite for your college's annual giving day fundraising 5K event. Your microsite might attract a broader audience that includes current and prospective students, runners in the community, alumni, and other supporters who are interested in participating in the event itself. These individuals might sign up for your event and then learn more about other fundraising opportunities on your university's website later on.
3. Boost pre-event donations.
You can include the option to donate during the registration process for free events, or give attendees the ability to add an optional donation in addition to the cost of their event ticket.
Make sure your registration and donation form is streamlined. Only ask for essential information such as donors':
Names
Payment details
Contact information to receive the ticket/donation receipt
Note: Swell's default pre-event giving and registration systems is designed with these steps in mind.
If you offer the option to give during registration, including suggested donation amounts can be helpful to inspire donors. Your microsite should also include a donation page where event registrants— or even those who cannot attend but want to show support— can review your fundraising mission and donate.
Your microsite can provide insight into the cause or project your event will help fund. This can inspire more people to donate ahead of the event and jumpstart your fundraising efforts.
4. Engage supporters in a unique way.
Your microsite can be engaging and educational as well as inspirational. Try incorporating multimedia elements such as videos, photo essays, and interactive slideshows. You can use imagery from previous events or from volunteer opportunities at your organization to inspire supporters. These photos and videos can also provide insight into how your organization works and what volunteer positions look like.
Also, incorporate interactive polls and quizzes into your microsite to engage supporters. Try creating educational quizzes about your organization to inspire your event guests. You can also use polls to inquire about what food, entertainment, or experience event attendees may be interested in for your event.
If your organization has a newsletter, include a button for attendees to sign up for your contact list. Collecting registrants' emails will also make it simple to follow up with more information before and after your event.
5. Track event-related data.
Your event microsite can help you gather event-specific data to track and assess your campaign's progress. You can use this data to adjust your marketing strategy moving forward.
Your microsite will allow you to track data such as:
Traffic sources are where microsite visitors come from, whether social media, organic search, referrals, email, etc.
Conversion rate is how many visitors followed through to register or donate.
The online fundraising total is how much of the funds raised come from online donations.
Microsite shares are how many people share links to your microsite.
Time on page shows how long visitors remain on your web pages, so you can compare top-performing pages and figure out what makes them so engaging.
The bounce rate is the percentage of visitors who leave your website before viewing other web pages.
You can test out unique design elements on your microsite, then review your analytics to assess whether the elements engaged visitors. If you find that some pages hold visitors' attention better than others, consider making those pages the primary focus and directing visitors there to lead to more conversions.
Looking at your microsite data can also help you adjust your overall marketing strategy and make edits to your main websites and subsequent microsites to engage more visitors.
By creating a successful microsite, you can increase donations and registration, gather more data to support your larger brand. All-in-all, your microsite can help strengthen your campaign while also benefiting your organization.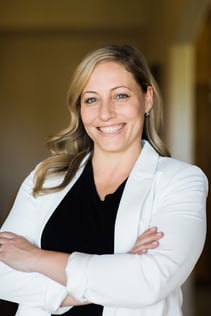 AUTHOR: ANNE STEFANYK
As Founder and CEO of Kanopi Studios, Anne helps create clarity around project needs, and turns client conversations into actionable outcomes. She enjoys helping clients identify their problems, and then empowering the Kanopi team to execute great solutions.
Anne is an advocate for open source and co-organizes the Bay Area Drupal Camp. When she's not contributing to the community or running her thoughtful web agency, she enjoys yoga, meditation, treehouses, dharma, cycling, paddle boarding, kayaking, and hanging with her nephew.