According to Amazon's press release , "Over the two days of Prime Day, on July 15 and 16, sales surpassed the previous Black Friday and Cyber Monday combined. Prime members purchased more than 175 million items throughout the event."
That got us thinking….
What lessons, if any, could nonprofits glean from such a successful campaign? After all, sales and fundraisers are both campaigns.
Could a nonprofit surpass their income from end-of-the-year giving in the middle of the summer when donations typically plummet? What if Giving Tuesday happened in the summer too?
Here are 5 lessons from Prime Day campaign you can apply to your next fundraiser. Why not start now?
1. Plan and measure everything! When you look at Amazon's press release, you'll notice they know exactly how many computers, phones, Amazon devices, etc. they sold. That's not accidental. Before the campaign began, the company knew what would be on sale and when, how long each sale would last, and every other detail of exactly how the two-day event would unfold.
Just as importantly, they also set goals for overall sales, category sales, and site visitors. Planning the process for your event or online fundraiser is important, but don't forget to set goals for other measurables at the same time. When you measure all the details, from which marketing strategies yielded the best results to who raised the most money and which strategies brought in new donors, you'll know what worked, what didn't, how to improve, and how to follow-up.
We all know there's more to long-term fundraising than simply raising funds, right?
2. Build awareness. Talk about your event everywhere on every channel to everyone. As July 15th approached, Amazon ran banner ads across their site counting down, advertised on social media, and pushed out notifications on their apps. They even changed out their regular packing tape for an electric blue strip announcing July 15-16, 2019 as Prime Day.
This marketing strategy did a couple of things. First, it made customers and potential customers aware of the upcoming sale. Perhaps more importantly, it also made the whole thing seem like a party customers didn't want to miss. Just look at their promotional image. There's a marching band and balloons! It screams party.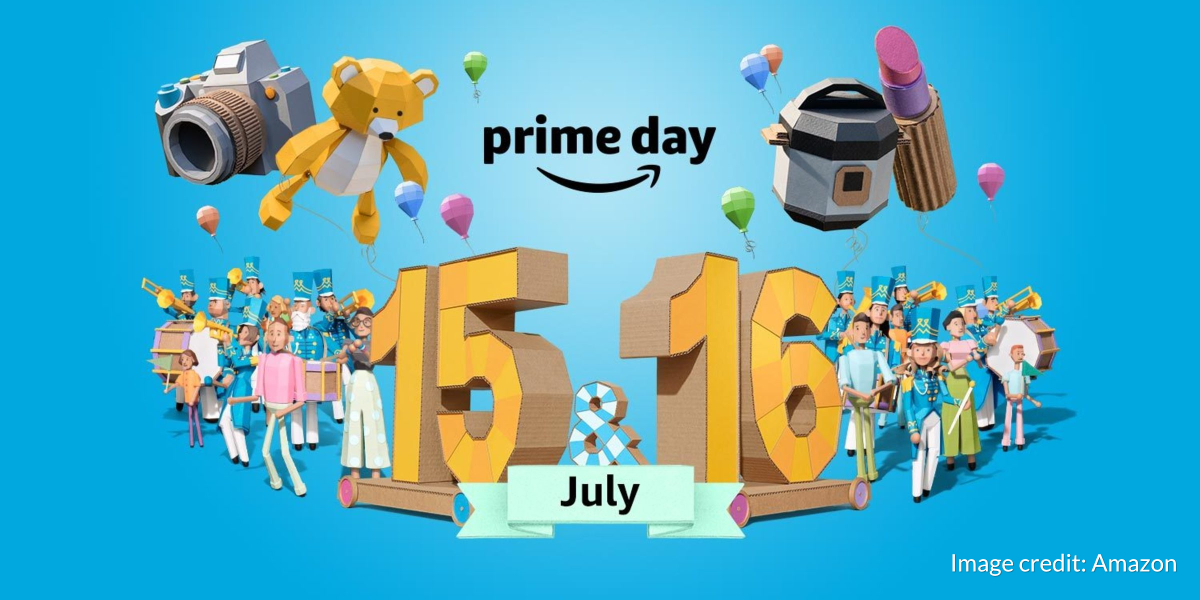 FOMO (fear of missing out) is a psychological phenomenon that you can definitely use in your fundraising campaign strategy. It's part of the five part strategy we outlined in this article . Don't you think it's time we put the "fun" back in fundraising?
3. Build a network of supporters to get the word out for you. Amazon officially announced the date for its annual Prime Day sale this year on June 25th. They were able to generate enough buzz to make the event successful with less than a full month to promote it by enlisting the help of an army of avid supporters. Our local news stations even reported on it!
Ready to do the same thing for your nonprofit? Here's how. Look through your list of board members and donors. Find 10-20 people who are passionate about your cause and mobilize them! Give them the tools they need to be successful. Ask them to send emails, talk to people in person, and post about your fundraiser on social media. In case you need a little help with creating your toolkit, we've put together some general ideas to help you get started.
4. Prime Day wasn't an overnight success. Know that your fundraiser might not be either. When Amazon launched Prime Day in 2015, they crashed their site! Amazon Web Services (AWS) is known world-wide for their uptime. They don't crash. That's why other people use them to run their businesses. In 2015, just briefly, they crashed anyway because they underestimated the sheer number of people who would flock to their event.
5. Resolve to do better next year. Amazon took the lessons they learned from that first year and all the years after to achieve their current success. Have a good plan. Execute it well. If part of the plan doesn't work, learn from it and do better next time.
Will implementing these strategies help your bottom line. Most likely. Will you surpass last year's end-of-the-year giving totals? Probably not… at least not the first year.
Fundraising, like sales, is a long game. Remember to clearly define your goals, measure everything, and re-evaluate after the campaign ends so you'll know what worked, what didn't, and what you can do better next year.
If you enjoyed this article, you might also like:
5 Lessons Nonprofits Can Learn from Alabama Football
Conquering the Unconquerable: What NonProfits Can Learn from Surfing the World's Greatest Wave
What to Do When Your Board Asks for An Online Fundraising Campaign
Winter Is Coming... What to Focus on Now for Year-End Appeals