A successful nonprofit fundraising event (one that consultants will love) should be designed and measured by the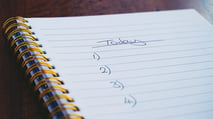 following key performance indicators:
(1) New prospects created;
(2) New donors acquired*;
(3) Lapsed Donors re-engaged;
(4) Awareness created;
(5) Revenue (especially if it creates an opportunity for corporate sponsorship).
*Please note that purchasing a gift certificate at an auction is not a donation, even the IRS agrees and should not be included in #2. The entity or person that donated the item is your donor.
Events designed and measured by these metrics typically do not have fundraising gimmicks and focus on guest experience, a rich program, social media / PR reach and a strong fundraising ask (Fund A Need works here).
The event becomes the first step in the donor experience and pipeline.
When positioned correctly, the event can transform the major gift and planned giving functions.
Examples of fundraising event concepts that work:
(1) Table host driven luncheon/dinner events where a current donor/participant invites 7-9 friends. The most successful events in this model do not charge for tickets and it is purely a fundraiser/cultivation time.
(2) Volunteer-Fundraiser - engaging people in your mission through an event is an incredible way to touch your cause. Led by a current donor/advocate, friends are invited to participate on team volunteer projects and fundraising is expected.
(3) Cocktail-evening events led by a core group of participants where networking and learning about your cause are primary. This event includes a strong fund-a-need ask that can be prepped with video and emails leading to the event.
(4) Mission-centric "show" - if your organization lends itself to a show then a fundraising event with a show as the central theme is perfect. It's just important to make sure that all of your literature uses the word FUNDRAISER.
Transformative Results: In the case of a nonprofit client from 10 years ago, we created a new event that strategically targeted a younger donor base. The event generated the same net revenue as the recently cancelled wine auction with an entirely new base of donors. Board members and strategic donors who once attended the wine auction are now enjoying "living room conversations" about a major gift. The same year, the annual fund increased 13% due to new donors acquired by the event and today many of those early donors are now serving on the board and emerging as major donors themselves. During its first 6 years, the new event acquired over 1200 new donors to the organization. No auction, No Gimmicks - simply a focused Fund A Need.
If nonprofit events hit donor pipeline and cultivation metrics and thus begin to deliver value to the major gift programs, the nonprofit consultant community will cheer you on.
For more articles written on this topic visit the following:
Are you Throwing a Party or a Fundraiser?
How to Decide What Type of Fundraiser to Host
10 Ideas to Include in Your Event Sponsorship Package