Nonprofit fundraisers spend significant time focused on obtaining corporate sponsors to support the mission. These sponsorships are often driven by the event sponsorship package and cultivation process. Long before the event, someone created a corporate sponsor package, made the connections, leveraged board member relationships, held meetings and followed up by email until they reached a YES. However, cultivating prospective event sponsors is only the beginning.
Now, the nonprofit organization has a list of corporate sponsorship commitments for your upcoming event.
How do you manage event sponsor relationships so that they become long term partners of your nonprofit? Inversely, how do you avoid mistakes that jeopardize the future of the event sponsorship?
Here are the keys to that relationship:
Sponsor Communication: Clear, organized communication about logos, tickets, tables and billing
Meeting the sponsorship package expectations: Create a checklist to make sure you meet or exceed obligations of the sponsorship agreement
Event sponsor guest communication: All guests need to receive clear pre-event communication about attire, parking, event details and an opportunity for feedback about meal choice.
Smooth Check-In Process: Sponsorship guests should be welcomed and acknowledged quickly upon arrival. A seamless check-in process is the first step toward a successful event.
Host an Organized and Inspiring Event: The event program must be on-time, food allergies/choices are met and the event details are as expected. Create an event that inspires guests to connect to your mission. Note: If the event is on a Thursday night and guests expect it to end by 9:30pm; it should end by 9:30pm.
Post-Event Communication: Thank your point of contact(s) with the sponsor for their help obtaining the logo,issuing tickets, and sending guest names. Highlight the impact that the event will have on your mission. Bonus: Send a picture of their corporate sponsor table
For so many event sponsors, it often feels like the relationship ends as soon as they say 'yes'. The conversation quickly morphs into a series of demands: Can you send your logo? Please send the logo in a different format? Do you plan to use your event tickets? Please send your guest names for the sponsorship tickets. This can go on and on for the months leading up to an event. While corporate sponsors are most interested in your mission, they want to send guests to good events. In fact, if your corporate sponsors choose to forego tickets/tables with their sponsorship it might be time to re-think your event. Often a corporate point-of-contact hears negative feedback from their employees if an event is unorganized or not enjoyable. They remember.
So, how can you ensure that you are managing your event sponsorship relationships well.
Here is a helpful checklist.
Confirm the sponsorship point of contact for the following: (1) Billing, (2) Event Ticketing/Guest Assignments and (3) Marketing Materials
Payment of the Sponsorship:

Create the invoice or send the online payment link for completing the sponsorship
Ensure that the terms of their sponsorship agreement are met.
This can include any/all of the following (or more, be creative):
- Logo Placement
- Including a corporate guest speaker in the program
- Utilizing a sponsorship video in the program or on the nonprofit website
- Sending information to event guests about the corporate sponsor
- Issuing tables/tickets to Corporate Sponsor Guests
- Managing the receipt of names for tickets/table guests



Pre-event communication to guests

Ensure that the sponsor is situated in the room appropriately

Post-Event Stewardship
- Thank you note to corporate points of contact
- Completing company information related to the impact of the gift
Naturally, many steps of the sponsorship guest experience can (and should) be automated to save valuable time. Utilizing software features that issue complimentary tickets or allow for a point-of-contact to enter names ensures that all guests are able to provide meal choice feedback and that they receive essential pre-event communication.
Don't forget: Event sponsorships can be a path to new donors and presents a unique opportunity for your nonprofit to connect. Take time to do your homework on the guests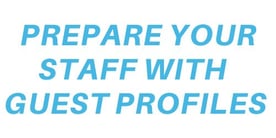 attending your fundraising event and equip your team with information. For example, you can compile the LinkedIn profiles of the corporate guests to ascertain who is attending. Then, determine who should be greeted by your CEO or a Volunteer Coordinator and equip those staff members with the names and table numbers of the guests they should try to meet. Does this sound like too much? It's not - the event presents a unique opportunity to make a face-to-face connection. It's really priceless.
If you don't have the bandwidth to properly manage the sponsorship journey, utilize clear checklists and documentation (example: a shared google sheet) to activate a volunteer or intern to support the nonprofit with this effort.
Corporate sponsorships provide an essential revenue stream for nonprofit missions and can become invaluable partners for an organization. It's easy to think of a company as a well-resourced entity without a personality but behind all of these decisions are people. Thank your sponsors, create a worthwhile experience and take care of the relationship because your team spent a long time getting to a 'yes.'