Your nonprofit fundraising team, perhaps along with the help of a research consultant, has recently started conducting prospect research. You've used various databases and research tools to identify prospective donors who exhibit both an affinity for your organization and the capacity to make a larger donation. You've put a lot of effort into the process so far, and now it's time to put that research to work!
Whether you're looking to cultivate major gifts, connect with corporate partners, or determine the guest list for your next virtual fundraising event, your prospect research efforts can help inform your approach to many different types of fundraising.
The insights gathered through the prospect research process can transform your fundraising efforts, providing you with a data-driven strategy for getting in touch with likely donors. There are many ways to apply this research in practice to enhance your cultivation and stewardship approaches. You'll be able to:
Kickstart your relationship-building efforts with major donors.
Raise awareness of matching gift programs.
Attract corporate sponsors.
Steward planned givers.
Give your capital campaign a boost.
Connect with generous alumni.
Here at Donorly, we equip nonprofits with the prospect research tools and resources they need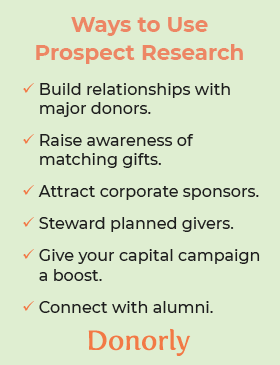 to identify top prospects, create an effective stewardship strategy, and craft a framework for repeating this process in the future. We've seen nonprofits successfully use these ideas to apply their prospect research insights and open new funding streams. Let's jump in!
Kickstart your relationship-building efforts with major donors.
At its core, prospect research is the process of identifying potential high-impact donors with the capacity to contribute a major gift to your organization. According to DonorSearch's major gifts guide, major gifts are the largest contributions your nonprofit receives.
Since your organization intends to ask for a heftier donation from major prospects, it's important to not jump into your gift request right away. Your prospects could see these appeals as too aggressive or random. Instead, you should take the time to get to know your prospects better and help them create a genuine connection to your organization.
To start, you can conduct a variety of relationship-building activities such as:
Scheduling a get-to-know-you meeting or tour with your prospect. If you can meet in-person, show them around your nonprofit's facilities, or schedule a sit-down meeting with one or two of your organization's leaders. If you can't meet in-person, schedule a video call or virtual tour. This allows you to show your prospects what your organization has to offer and slowly ease them into the idea of supporting your mission.
Offering volunteer opportunities. Volunteering is a great way to give prospects the hands-on experience of working with your organization and an inside look at your projects or programs. By seeing the impact your organization makes in the community up close, your prospects will be able to visualize how their contributions can make a difference.
Varying your outreach approach. In this relationship cultivation process, be sure to mix up your messages and invitations to prospects. For example, don't just call them again and again and fill up their voicemail—instead, use a combination of phone calls, event invites, notifications of volunteer opportunities, hand-written letters, and informal meetings. This will keep your organization at the forefront of prospects' minds and show them that your nonprofit is dynamic and active.
After cultivating your relationship, connecting with the prospect on an individual level, and showing what increased support could mean for your mission, your prospects should be prepared to receive a major gift ask. This is where you can reference your previous prospect research, as well as what you've learned over the past months of relationship-building, to create a personalized gift request.
Your prospect research will have equipped you with such information as a certain prospect's history of giving to similar organizations, their history with your own organization, and wealth indicators (real estate holdings, stock ownership, etc). Using this information, you can form an ask strategy that's reasonable and tailored to each prospect.
Of course, stewardship is a necessary part of the major gift cultivation process as well. It's important to follow up and thank donors in proportion to their gifts each time they contribute. Continuous stewardship efforts help ensure that your prospect research process wasn't in vain and that you can successfully retain the support of your major donors.
Raise awareness of matching gift programs.
Your prospect research probably will have revealed information about where your prospective donors are employed. This information allows you to identify those who work for corporations that offer matching gift programs—corporate philanthropy programs where businesses match donations that their employees make to nonprofits.
Prospective donors are often intrigued by matching gift opportunities because they can maximize the impact of their individual donations, earning a sense of pride and accomplishment along the way.
You can determine a prospect's matching gift eligibility in a couple of ways. First, you may realize that one of your prospects works for a company that you already know offers a matching gift program because you have other donors who work for the same company. Alternatively, you can use a matching gift database, such as the one offered by Double the Donation, to research the match eligibility status of your prospects.
Either way, after you've identified your match-eligible prospects, use your ongoing outreach to raise awareness of matching gift opportunities and the impact these programs have on your fundraising efforts. Prospective donors are often unaware their companies offer these programs, or they're unsure of how to get their gifts matched. Send informational messages to make prospects aware of their match eligibility and the (potentially major) fundraising boost these programs help provide.
Attract corporate sponsors.
Similarly, prospect research not only will reveal information about your prospects' places of employment, but also whether they're business owners or CEOs themselves. This provides an excellent opportunity to get in touch with potential corporate sponsors for your fundraising events and other activities.
Corporate sponsors can be a reliable source of support, providing a significant funding stream at key moments during the year. For instance, you may be looking for a corporate sponsor for your Giving Tuesday campaign. These opportunities are appealing for business owners because they can enhance their public image, as well as earn attention from the media and potential customers.
Using #GivingTuesday on social media, you can promote both your organization's fundraising efforts along with your corporate sponsor. This can elevate brand recognition for both organizations when you share each other's posts on your own pages.
You can also increase the ties between your organization and your corporate sponsor by offering group volunteer opportunities and other ways for employees to get involved beyond donating. This strengthens your bond and can lead to a mutually beneficial partnership for years to come.
Your prospect research gives you a head start in this process by helping you identify business owners and CEOs to cultivate.
Steward planned givers.
Another common area where organizations apply their prospect research insights is in building relationships with potential planned giving donors. Prospect research is often used to identify these types of potential donors because their bequests can provide general, ongoing support and a reliable revenue stream over time.
Planned gifts, also known as legacy gifts, are gifts typically made after a donor's death as a part of their overall estate planning. Planned givers often share such traits as being older, being a past beneficiary of your nonprofit's services, and being a loyal current donor.
This guide to prospect research explains that it's crucial to identify these prospects because "it can help you when developing a plan for your annual fundraising initiatives or when crafting a fundraising budget for the year." Planned gifts are similar to major gifts in that they can represent some of the largest donation amounts your organization receives in a year.
The prospect research process can help you identify those with these traits, so that you can begin the relationship-building process, just as you would with major donor prospects. In your planned giving outreach, be sure to emphasize how prospective donors can make a legacy-sized impact with this type of gift.
Give your capital campaign a boost.
If your organization is planning to launch a capital campaign to fund a significant project, such as building expansions or renovations, your prospect research insights can provide critical assistance throughout the campaign's quiet phase.
In the quiet phase of your capital campaign, your task is to identify and reach out to potential major donors who can provide the bulk of the funding needed to push your campaign across the finish line.
Donorly's prospect research guide provides an example of how prospect research can help with this process. Perhaps you work for an animal rescue that's looking to use capital campaign funds to expand its facilities to house more adoptable pets. Through prospect research, you've identified potential donors who have been involved with your organization over the years, as well as have the potential to make a larger gift.
You identify one prospect in particular who exhibits all the characteristics of a potential major capital campaign donor. They own a local veterinary practice, and they adopted their family dog from your shelter.
Using this knowledge, you can connect with this prospect on a personal level, referencing their pet and profession in your messages. You can start the process of guiding this prospective donor toward making a larger contribution when your quiet phase kicks off.
Connect with generous alumni.
Finally, you can apply what you've learned by conducting prospect research when connecting with alumni of your program, school, or organization.
Prospect research is often used to identify prospective alumni donors because these folks already have a proven affinity for your organization. Whether they spent four years at your school as an undergraduate student or went through your nonprofit's leadership training program, these prospects have experienced your organization's work firsthand. This generates a ton of goodwill and warmth toward your fundraising efforts.
Using research insights, you can identify alumni with wealth markers, demonstrating their enhanced capacity to give to your cause. You can plan special alumni events with these prospects to bring them back to your campus or facility and remind them of all the great times they had there. Your event can be the perfect way to kick off ongoing relationship-building activities that culminate in a fundraising request. Alumni organizations also often host annual giving days to inspire urgency in prospective donors and centralize their marketing efforts around one major fundraising drive. These are all efficient ways to use prospect research to connect with an audience that's already highly sympathetic to your organization.
---
As you can see, there are plenty of ways to use the information gathered through your prospect research to craft better fundraising strategies. If you're looking for guidance on how to create a sustainable framework for applying prospect research on an ongoing basis, a nonprofit consulting firm can provide the necessary expertise to make accurate, data-driven recommendations.
Whether you're tackling the process on your own or with the help of a specialist, it's important to remember that prospect research is just the first step in the donor cultivation process. By using your insights to inform your strategies, you can start building relationships with prospects that can last a lifetime.